Camper Van Plumbing System
A guide to help you breeze through your camper water system projects.
Take The

Guesswork

Out Of Camper Plumbing
Get started on your plumbing adventure with this guide. From this page you'll find resources on how to build a camper sink & faucet system, install a shower, and pick up key product recommendations that have made van life easier and more convenient.
Thought our camper plumbing section you'll come across detailed diagrams and step-by-step installation instructions.
So if you're ready, let's get to it!
Add a header to begin generating the table of contents
Sink & Faucet Plumbing Installation
Even building a simple sink & faucet system in a camper can be complex because there are so many small components involved.
In the sink plumbing diagram below, you can see just how many parts are involved in a successful installation.
Fig 2.1 - Sink Plumbing Diagram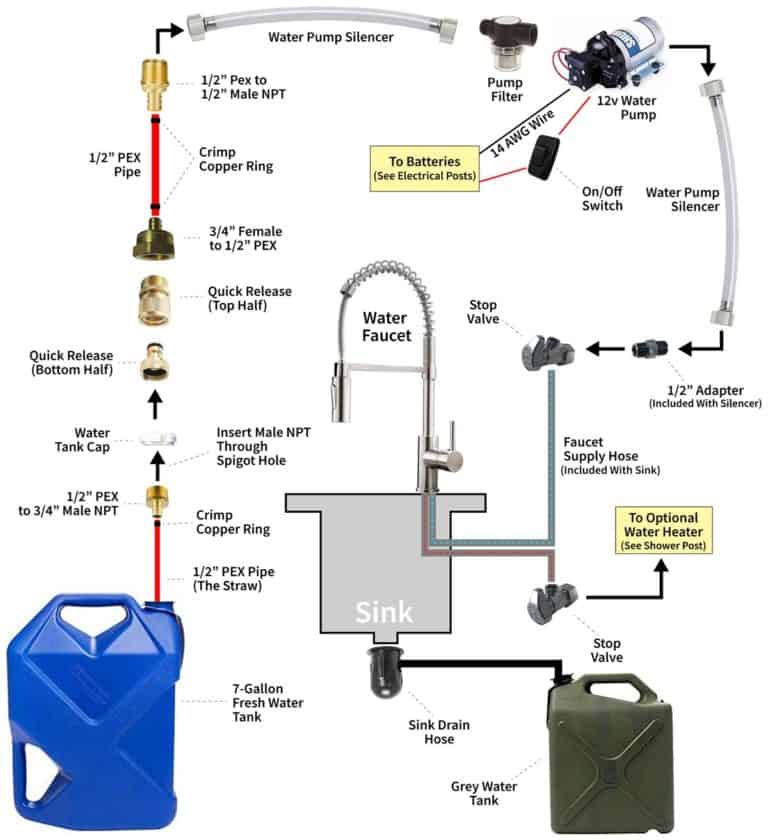 To build the EXACT same system as above, we detail the step-by-step installation process in our camper sink installation post. In that post, we include:
Sink & Faucet Recommendation
When it comes to cooking meals & cleaning up afterwards, we believe that they should be done as easily and conveniently as possible. Living in a van is hard enough, so we should invest in products that help make van life simpler, not more frustrating.
That's why we did so much research as to which sink and faucet would help make dish cleaning quicker and more enjoyable. This would also help incentivize us to cook more and eat out less, helping to save us money.
Below, we link to the exact same sink and faucet that we use in our van.
Fig 2.2 - Sink & Faucet Recommendation
Want to learn more? Check out our sink & faucet review write-ups and decide for yourself.
Camper Toilets - Types & Necessity
Don't lie, one of the first thoughts you had when you decided to try van life was how you were going to deal with the bathroom situation. That was us, too!
In essence, there are four general bathroom options for a camper van:
We purchased a compact Porta-Potty chemical toilet to start, but never used it once in 7 months of travel. So we threw our toilet away and NEVER LOOKED BACK!
Seriously. After more than 2 years since the toilet purge, we've been improvising just fine. And we think you'll be OK, too.
That's not to say we don't have a toilet 'solution'. Learn more by clicking the link below.
Related read: Do You REALLY Need A Camper Toilet?
Shower System Plumbing Installation
There are several different camper shower setups out there. These include:
Of all the above options, we most prefer showering with a solar shower bag. It's the most economical and space efficient solution.
However, we did install a camper shower system so that we could take hot showers while standing out the back of our camper van. Read our post below to learn how to build and install your own camper shower system.
Related read: Camper Van Shower Diagram & Installation Guide
Who knew that there were so many different ways to store water in a camper van?
Below are the most common three methods camper vans & RVs store their fresh water.
Each type of water container has their pros and cons. For example, we use jerry cans under our sink because they can be easily removed and filled from practically any water source.
Check out our post below to learn more about all the water storage options available to you.
Related read: Fresh Water Tanks For Camper Vans
Final Thought: Camper Plumbing Doesn't Have To Be A Headache
We're not kidding when we said that plumbing was the most difficult part of our camper van conversion. There just wasn't much useful information out there.
That's why we created this camper plumbing tutorial page to help others during their build.
If yo have any questions or comments, please send us an email on our contact page and we'll be sure to get back to you as soon as we can.
Go back: DIY Camper Van Build Guide