Building an electric system in a camper van is one of the most daunting projects when converting a van. There's so many different products, components, and wires to piece together.
WHICH do you need and HOW do you do it?
Though there's many components to a camper electrical system, this post will specifically focus on how to build a 12v system in a camper van. In this step-by-step guide, we show you exactly what you need to build the exact same system as in the diagram below.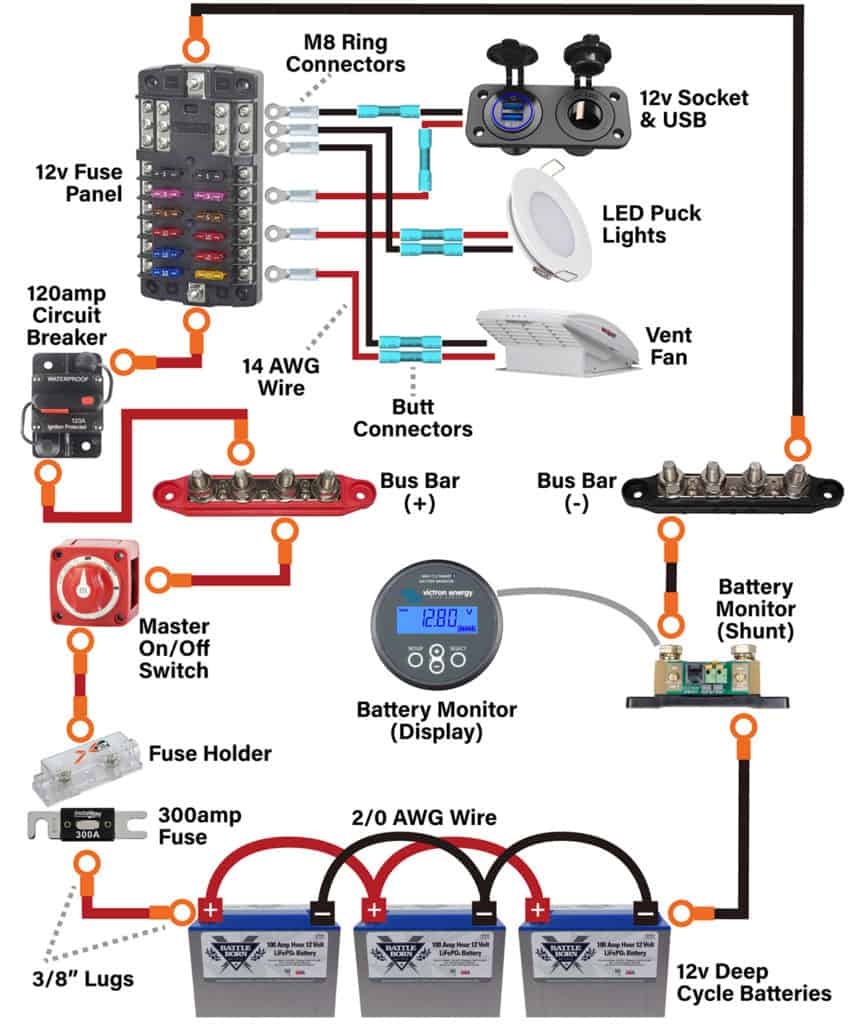 The 12v system above is the exact same system we use in our camper van and has served us extremely well.
(Remember: You can always download our electrical wiring eBook for convenient offline reading. It's 100% free.)
So if you're interested, let's get to it!
Add a header to begin generating the table of contents
Confused where to start with DIY electrics? Check out our comprehensive camper van electrical system guide to start from the very beginning.
Wiring 12v Batteries Together
If you have multiple batteries, you will first need to wire them together.
If you don't know how many batteries you need, check out the articles below to learn more:
More than likely, you will need more than one battery. So in this section, we discuss how to wire multiple batteries together in parallel, as shown in the diagram below.
Fig 1.1 - Wiring Batteries Together
Powers all electric devices.

Primary wire used to connect all 12v system components.

Required to connect 2/0 wire to most components.

Cuts 2/0 wires down to size.

Crimps 3/8" lugs onto 2/0 wire ends.

Activates heat shrink tubing.
Below are step-by-step instructions to attach a 3/8″ lug ring connector to a 2/0 wire end. You will need to attach copper lugs to either end of the 2/0 wire in order to connect them to the batteries.
After adding heat shrink, your 2/0 wire ends should look something like in the photo below and are ready to connect to the battery terminals. Note: You will need to attach many more lugs to 2/0 wire ends to build the rest of your camper van's 12v system. So keep that hammer and lug crimper nearby!
To connect multiple batteries in parallel, simply combine all the positive terminals together (red wire) and all the negative terminals together (black wire).
Download our electrical eBook (with diagrams) to learn how to wire an electrical system in a camper van.
Wire Batteries To Bus Bars
Now that the batteries are wired together, you are ready to connect the batteries to the positive and negative bus bars.
What Are Bus Bars?
Bus bars [Amazon] are power distribution centers that collect and distribute electricity to/from multiple sources. While not 'required' to build a 12v system, they are recommended because they help keep electric wiring clean and simple.
In this section, we will focus on piecing together the components as shown in the below diagram.
Fig 2.1 - Batteries To Bus Bars
| | | |
| --- | --- | --- |
| | | |
| | Wire used to connect 12v system components. | |
| | Connects 2/0 wire to most components. | |
| | Protects 12v system from surges. | |
| | | |
| | For maintenance and vehicle storage. | |
| | | |
| | Displays battery's state of charge. | |
Installation Instructions
Once you have your materials & tools, below are the steps to connect your batteries to the bus bars.
Is A Battery Monitor Required?
It is not required. But installing one helps to keep you on top of your battery's state of charge and plays a big role in maximizing the battery's lifespan.

Connect Bus Bars To 12v Fuse Panel
In this section, we focus on connecting the positive & negative bus bars to the 12v fuse panel. This is a critical step to providing power to your 12v devices.
By the end of this step, we will piece together all the components shown in the diagram below.
Fig 3.1 - Bus Bars To 12v Panel
| | | |
| --- | --- | --- |
| | | |
| | Protects 12v devices from surges. | |
| | Connects all 12v devices to batteries. | |
Installation Instructions
Once you have your materials & tools, below are the steps to connect the bus bars to the 12v fuse panel.
Connect 12v Devices To Fuse Panel
In this section we discus how to connect all the 12v devices in your camper van to the 12v fuse panel, as shown in the wiring diagram below.
To wire all 12v devices to fuse panel.

Connects 14AWG wires to 12v fuse panel.

Connects 14 AWG wire to each 12v device.

Fuses to protect each 12v device in fuse panel.

Perfect, low-energy lights for our camper van.


Charge phones and other 12v devices.


Cuts, strips, & crimps for 14 AWG wires.
Installation Instructions
Once you have your materials & tools, below are the steps to connect your 12v devices to the 12v fuse panel.
How To Size Your Blade Fuses
You can generally find blade fuses rated for 1A, 3A, 5A, 10A, 15A, & 20A. To calculate which size fuse is needed for each device, simply take the total watts the device is rated for and divide by 12. Take the result and round up to the next size rated fuse.
Were these wiring diagrams useful? We have more great diagrams in our free electrical eBook.
Which 12v devices you want to put into your camper is entirely up to you. Below we list the six most popular 12v device groups for camper van builds.
Installing lights that run on 12v is a great way to brighten up your van's interior when natural sunlight isn't sufficient. We recommend getting a pack of LED Puck Lights to install in your camper's ceiling. They're bright, provide warm colored light, and draw only a tiny amount of power from your batteries.
A roof vent fan is practically a must when living in a camper van. Vent fans not only help to bring in cool, fresh air and expel stale air, but they also help to regulate the internal temperature of your van and get rid of greasy smells when cooking.
We leave our vent fan on 90% of the time while we're in the van.
Best of all, if you choose the MaxxFan [Amazon], the product comes with a built-in rain cover so you can even use the fan when it's raining. In our experience, a rain cover is critical.
Having at least one pair of USB & 12v sockets is invaluable for van life. With sockets like these, there are so many different electrical devices that you can power. From your smartphones, to desktop fans, 12v fridges, USB propane detectors, cameras, portable inverters, and even aromatherapy diffusers. The list is endless.
We've installed 3 pairs of these USB & 12v combo sockets throughout our van and they are constantly in use.
A 12v fridge is an under-appreciated appliance in many camper builds. Good quality RV fridges aren't cheap and can take up valuable space inside a van. But having a fridge is practically a necessity when planning to live and travel long term in a camper. Compared to cheaper coolers, having a proper 12v fridge keeps your food cool 24/7, eliminates the need to look for ice every 2-3 days, and allows you to boondock in the countryside for much longer periods of time.
We love our 12v Dometic fridge and wouldn't go any other route to keep our food cool. To learn more, check out our Dometic Fridge review!
Installing a diesel heater in a van is a luxury item, but it's amazing how well they work, how fuel efficient they are, and how comfortable they can make winter van life.
For two days we were stuck at a campsite in Grand Canyon National Park after 2 feet of snow fell all around us. Though temperatures dropped to 9F (-13C) at night, we were still warm & toasty inside. Our diesel heater has also made getting up in the mornings so much easier because with just a push of a button, our van heats up in minutes.
A water pump is a convenient item to have when it comes to van life. We installed one because we wanted our camper van to feel more like a real home with instant running water with just  a flick of a switch. If we could build a second van conversion, we would 100% install a water pump again.
Check out our other post to learn more how to install a water & plumbing system in a camper.
Conclusion: A 12v System Is Just The Beginning
Great job! If you followed this post from beginning to end, you should have a solid understanding of what is needed to build your own 12v system in your camper.
As we mentioned above, the 12v system is the heart and soul of any camper electrical system. But it's not the only part. There are other pieces to the overall electrical system puzzle as well.
For more regarding solar, check out our solar system installation guide. It's an 8-part series that will take you through the entire process to build a robust solar panel system for your camper.
Or…head back to our camper van electrical system homepage.
Happy Building!